WHO WORKS HERE
People
Staff Interview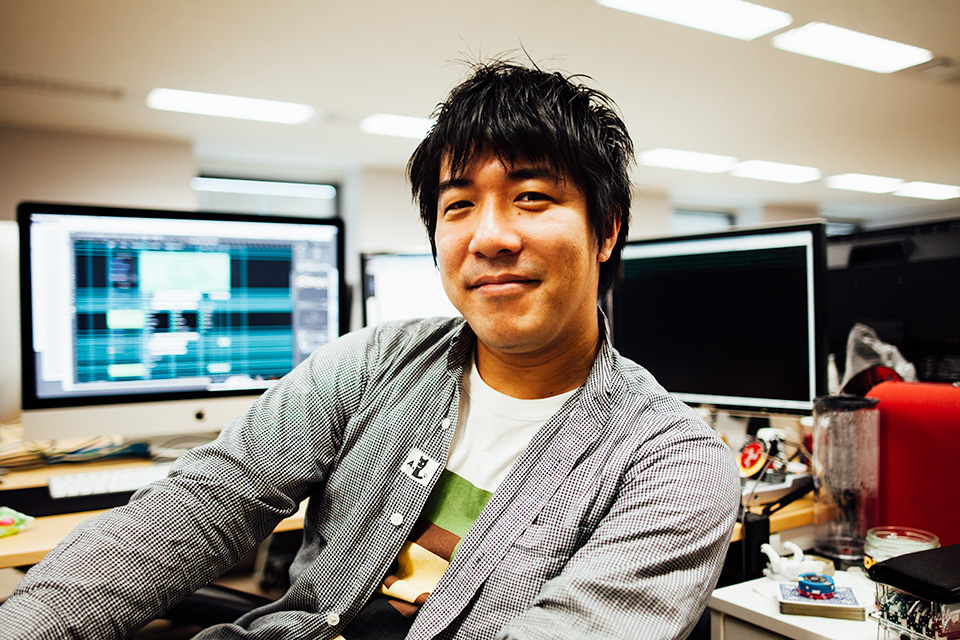 Web Engineer

STAFF INTERVIEW
After having worked as a web engineer at an advertising agency, entered Polyphony Digital in 2006. Responsible for the front end coding for the official gran-turismo.com website.
Entering an IT engineering vocational high school/college

I was born in Kisarazu of Chiba, but moved immediately to Sodegaura where I grew up. I'm the generation that was really into the Nintendo in early years of elementary school, and later the Super Nintendo.

In classes in Jr. High I had opportunities to use PC's, though and we only really used them as a word processor. But I thought to myself, "I could make games with this" and I decided to attend an IT engineering vocational high school/college.

Music

In the vocational high school I learned the basics of programming. The first programming language I learned was Turbo Pascal, then Quick C. I asked my parents to buy me a PC-9821 at home, and I made simple rock paper scissors games and other things.

Meanwhile I really took great interest in playing the guitar, that I started from the influence of a friend. I became caught up in band activity from then on, and in the end I left the vocational high school/college after 3 years, and entered a Music college in Tokyo. There I studied basic Music theories, and specialized knowledge about guitars.

I still play the guitar as a hobby, and it's a great distraction to reset my mind.

Learning years in Web Development

Even after entering music school I still continued working with the PC, writing my own HTML code to make our band's home page, and did DTM using Macs as well. After graduating the vocational college, I was working part time for some time while participating in a band, but ended up becoming a full time employee at an advertising agency that I was working part time at. From there I became fully involved in Web development.

I was in the Web production team at this company, and the company environment was one in which it was easy to ask questions; the server administration department was right next to us. There I learned things like building web servers with Linux, and creating databases with MySQL, and everything around Web related technology. This was a great boon for me.

Starting up gran-turismo.com

After working there for 5 years, I left the advertising agency, and I started to look for work involving full web production. And just in time, I happened to see a job offering for Gran Turismo in an IT tech portal site. I applied for the job, and was accepted.

When I joined, Sony Computer Entertainment was making the gran-turismo website, and it was at a time when Polyphony was just about to replace it with a site developed internally.

I entered a team of engineers and designers that joined the company around the same time as myself, and we started the site production. My first job was making the announcement content and rankings pages for the "Gran Turismo 4 Online Test Version". In addition to coding the designs in HTML/CSS, in the beginning I was writing a part of the server side Java programs as well.

Multi-Language Support and Link to the Game

Thereafter, some of the milestones include the addition of multi-language support to the originally Japanese-only site at the release of "Gran Turismo PSP®", and a full design renewal for "Gran Turismo 6".

Out of these, the "Remote Race" that I was responsible for during Gran Turismo 5 was a memorable job; it was set up so that you could operate the game on the PlayStation®3 through a web browser. And though this is not directly my job, I think it's pretty big deal that we develop the CMS for web development in-house, which allows us to optimize it according to the actual usage.

The Character of Polyphony Digital

I think it's a fantastic environment in which anyone in any position can speak out to make Gran Turismo better. Everyone is highly skilled, and are full of curiosity. There's this sense of speed, where if you show an interest in something – immediately things start rolling forward, with an attitude like "that means you're gonna do it right?".

Also, I bought a Mazda Roadster (NA8C Miata/MX-5) after I joined the company, but when I drove the Tsukuba circuit in the company hosted track day, I truly thought "This is JUST LIKE Gran Turismo!". This is something that I really couldn't have experienced anywhere else.

Regarding the Recruitment for Web Engineers

The Web industry is evolving every day, so it is best suited for those who are always looking out for new things, and is willing to jump into new things right away.

There is an advantage of making our own official website in a console development company, and I'm sure there are more fields to be explored in terms of the link between the Web and the console games that no one has touched before. We are looking for others who will explore the new possibilities and new territory with us.