WHO WORKS HERE
People
Staff Interview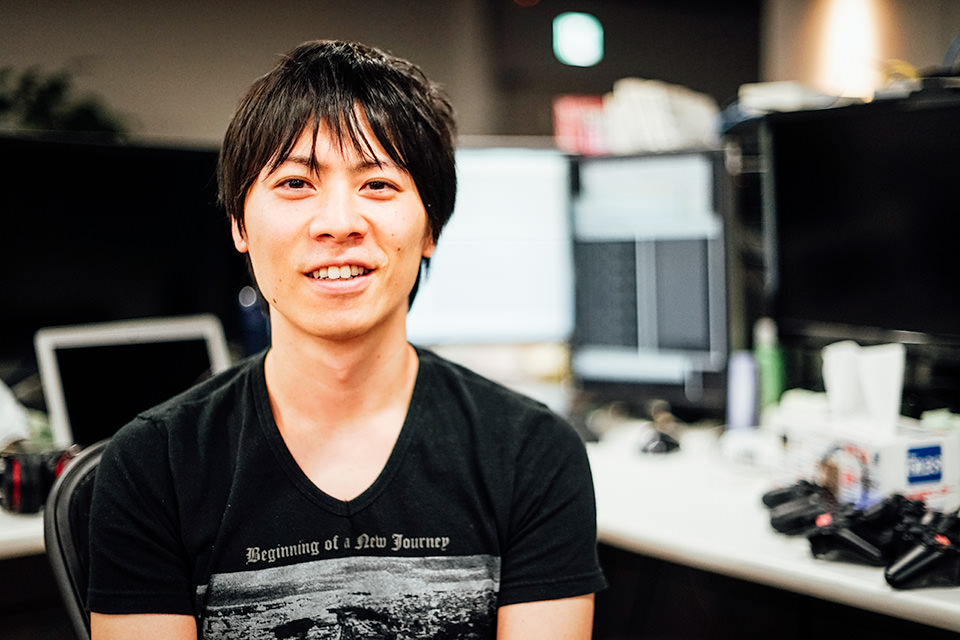 Online Engineer / Data Engineer

STAFF INTERVIEW
After having worked as a system engineer in a software development company, joined Polyphony Digital in 2006. Responsible for the online race/matching features since Gran Turismo 5 Prologue, and also working as a Data Engineer.
I had to face BASIC

There was a PC class in Jr. High school, and we played a networked quiz game using the latest Windows – Windows 95 back then. It was fun, and when I went home I asked if we had a PC at home. What came out of the warehouse was a PC-9801 that no one was using, and when I turned the power on, a solid black screen booted in BASIC. I remember thinking "this is different from the one at school".

There was a DOS environment installed on an external hard disk, so I tried the commands listed in the MS-DOS textbook one by one from the top, and I accidently formatted the disk; I was then stuck with BASIC, so I started programming.

Part time work at IT venture companies

While I was in college, I worked part time at a few IT venture companies. I did everything from mobile app development using the then-popular LAMP environment, to server setup, service operation, etc.

At first it was just for some spare cash, but it was fun to create products actually used by a large number of people, and I got really into it. So for my first job after graduation, I chose to join a major software development company.

The Gran Turismo is recruiting!

The company I joined was your typical big Japanese corporation, with a very strong seniority based culture which I couldn't really get used to.

Then on an IT news site, I saw an engineer recruiting banner for 'Gran Turismo', and I was really excited. I had been a fan of Gran Turismo since Gran Turismo 3 and was already using a steering controller at home. I applied immediately, and was fortunate to be accepted.

Involved in the first online match development for the series, from scratch.

I had never worked with game programming and had barely even messed around with C++, but a senior colleague told me, "You're young so you can do anything, you should try it.", and so I started learning the programming language. Once I was able to read code at a certain level, it was a fantastic experience, because now I was able to read the source code of my favorite game, down to its nooks and crannies.

Gran Turismo HD Concept contains code that I wrote just after joining the company, and it's sort of nerve chilling to see it now. After that the Gran Turismo 5 Prologue was going to be the first product released with an online race feature so I was able to become involved in the development from the very outset, and I'm still involved in online race related development now.

It's easy to say I'm making online races, but this involves everything including designing the packets flowing on the internet from the user interface operated by the player, and developing the workflow that allows us to improve quality by utilizing statistical data gained during the online matches, so the level of responsibility is very high, but at the same time this also makes my work challenging and satisfying.

The character of Polyphony Digital

There simply is a lot of talented people. Development reflecting the latest technology in a variety of fields is always ongoing, and even things that are outside of your field are stimulating.

We don't have a manager based structure here with a lot of detailed specifications and lots of managers. Individuals make modules and everything is put together all at once in the end, but this method only works because of the high abilities of the individuals involved. That's also why the working hours and style is very flexible here, but at the same time this obviously requires self-management, which is another major character of the company.

Recruiting for Online Engineers

For online matches, the development was done with two people including myself for a long time, then we had one more person added in 2014 for a total of 3. Working towards the PlayStation®4, development using a new architecture that allows an even richer experience has been started.

In this recruitment for online engineers, we are looking for professional people who are able to immediately get into the development on the front lines with us.

Recruiting for Data Engineers

In the online features of Gran Turismo, a massive amount of logs are collected every day. I analyze these as much as I can, but there is a limit to developing the game at the same time and covering both fields.

We are looking for specialists who can really get into data analysis, to tap into a vault of hints that can raise satisfaction of existing users and reinforce the engagement of our fans.