WHO WORKS HERE
People
Staff Interview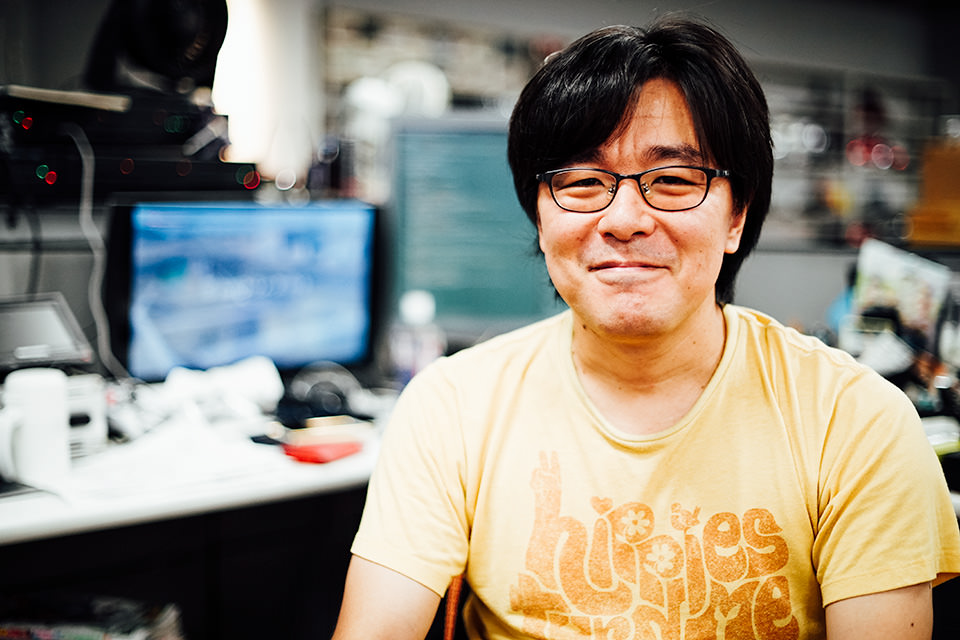 Game Engine Development Engineer

STAFF INTERVIEW
After having worked for a game developer, entered Polyphony Digital in 2006. Has been developing the race engine and game engine since Gran Turismo 5 Prologue.
Starting with "Family Basic".

The first experience I had in programming, was at a friend's house with Nintendo's "Family Basic". It was fun making stuff that moved characters in the Famicon according to the program you wrote, and I made a simple game similar to the first "Mario Brothers" where the character jumps around and fights enemies.

My parents bought me a MSX in the third year of Jr. High School, and I've been self-educated ever since. In high school, I was making 2D fighting games on the X68000 and lots of other games, but often times I would just make the part I wanted to make, and not complete it. There were only a few classmates I would show it to anyway.

Just happy to program

I enjoyed writing programs more than anything, and entered an information processing related trade school. There, all the people around me were also people who were programming all the time, and I myself had a lot more time to program. So the quality of the stuff I made vastly improved.

I started 3DCG, and for my graduation project I made something similar to a robot fighting game that was popular at the time. With a recommendation from school, I was accepted into a game development company, but back then I was just happy to program and never had a clear motivation like wanting to join a game company in the first place.

Working on a Soccer (football) game at a game developer

In the first company I joined, I was involved in the development of an arcade game. I did the graphics engine and motion engines for 3D shooting games, and in a racing game I also did the race engine and car physics on top of that; I had a hand in almost everything. In the last soccer game I worked on, I made the goalkeeper AI, and my experience as an actual soccer goalie from my school days paid off.

However from my 8th year with the company, the human resource system in the company had changed, and I started questioning my career. And just at that timing, I saw a job offer from Polyphony on an internet news site, and I applied immediately. It was the company where Mr. Tan and Mr. Yokoucih who wrote for the "Oh!X" magazine I used to read in high school resided; and I was always stimulated by "Gran Turismo" even while working for the different company.

What is the "reality" that is "Gran Turismo"?

In the job interview, I said that "I have experience in every other field except for networks, so I'll do anything but that.". But Once I joined, I became responsible for online races. It was just at the timing where the hardware was going from the PlayStation®2 to the PlayStation®3, so the race engine and game engine were all being rewritten from scratch.

Since then I have been developing both engines, and I've always made an effort to achieve a "reality that is very much Gran Turismo".
In the beginning, there were only races, time trials and drift trials, but I've worked on adding endurance races, rallys, NASCAR, and setting new rules in the game to match reality. But still, it's not enough. It's always important to think about what should be changed in offline and online races, and the parts that shouldn't be changed.

Character of Polyphony Digital

I was already working at a game company for 8 years prior to joining Polyphony, but the first thing that surprised me when I joined, was that programmers are very stoic in being a true programmer. In the other company, it was common to say, "using middleware is fine, we don't have to develop the cutting edge technology ourselves; we can just use what's available". The culture at Polyphony where "we learn, and make everything ourselves", was refreshing. Everyone is focused on tech.

And of course there are many people who like cars. I go watch the F1 Japan GP with friends at work on a regular basis, and I put out the idea of renting out a Kart track for a company Kart track day, but now it's become a popular event where even the female staff are joining in on the fun.

Regarding the hiring of a Game Engine Development Engineer

It's not necessary to do both the game engine and race engine, one or the other is okay. But in order to develop the race engine, you must like racing and have knowledge of racing.

On the other hand, the development of the game engine can be done even without knowledge of racing, but this requires making programs that are compatible with multi-core processors, that can run efficiently within a limited memory resource. In either case, you are developing the core of what the Gran Turismo Players love to play with, so there's nothing greater in terms of satisfaction when you get it right.