WHO WORKS HERE
People
Staff Interview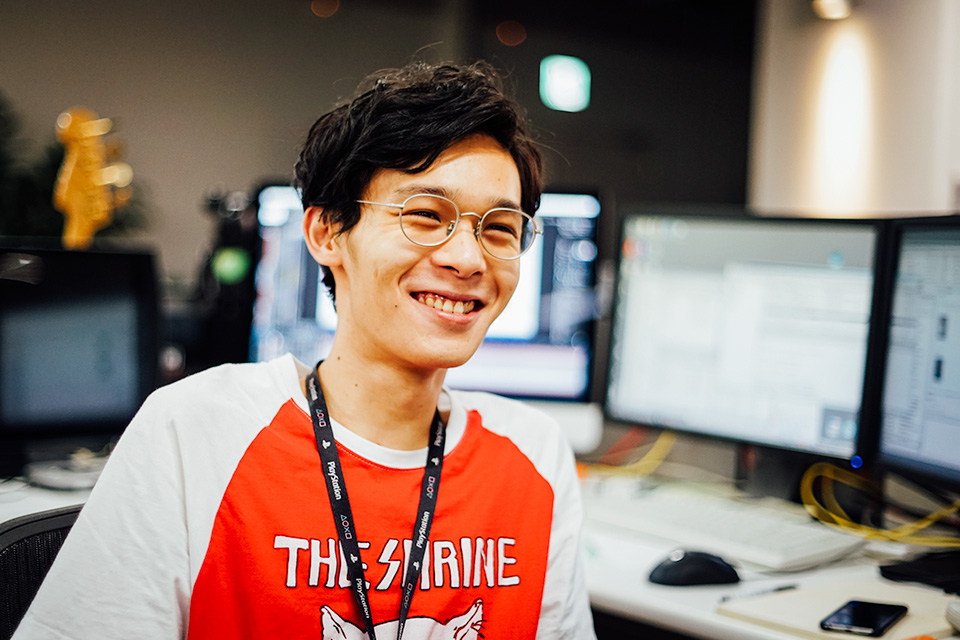 UI Designer

STAFF INTERVIEW
Started working part time at Polyphony Digital while attending the Tama Art University. Officially joined full time from 2013. Responsible for Menu Design since Gran Turismo 6.
Skateboard, Rock, and Games

My family is in Hiroshima, and I grew up in a rather normal family. After elementary school I attended a joint Jr. High - High school, and from Jr. High I really got into skate boarding. After school and on weekends I used to gather with a bunch of guys not from my school, and played with them all the time.

Using an old PC I got from my father, I made a homepage introducing skateboarding techniques, and through the skateboard culture I took interest in Rock music s well, and started playing the guitar around this time.

And I loved games as well, so I played the first "Pocket Monster" that came out when I was in elementary school, and then progressed to the Super Nintendo, PlayStation®, and PlayStation®2.

I wanted to design mobile phones

Once I was in high school I had to decide on my future. At the time, the designs of mobile phones were a hot topic and I was interested in it as well. When I did some research, I learned that there are careers in product design. I was good at drawing and making things since I was a child, so I decided that I wanted to design mobile phones.

I found out that the best place to learn product design would be at the Tama Art University in Tokyo, so I started to attend an art preparatory school. I think I stood out in a variety of ways, as a kid attending a standard college prep oriented high school in Hiroshima but doing something totally off-track.

I was accepted into the Tama Art University, and things I learned there, such as how to make presentation boards and the thinking behind graphics for explaining something to someone, is proving to be very useful in my job now.

Part Time Job due to Flunking a Year

I joined a club in College and started playing base in a band, and before I knew it we had released a CD and went to a level where we would be invited to play at major rock festivals. However, having spent so much time in band activity and other pursuits rather than school, I was not able to graduate in my 4th year.

And while I was going to remain another year in school, I had some spare time so I decided to look for part time work relating to design. And what came to mind then, was a game I used to play a lot at home, "Gran Turismo 4". The quality of the graphics in this game, the artistic touch of the menus and screens, the mature music used in the tracks, really stood out from other games at the time and had left a deep impression in my mind.
And when I looked up Polyphony Digital on the Internet, they just happened to be looking for part timers. I put together my resume together with some work from College, that I got printed into an A4 sized book, and sent it to them. Perhaps they took note of the effort I put into make a proper book out of my portfolio, but I was accepted to the company.

The Menu Design of Gran Turismo 6

The first job I was given while working part time, was the Portfolio page of the Graphic Design team. Then when I was about to graduate, they asked me if I wanted to join them full time, and from there I was given the responsibility of the Gran Turismo 6 menu design. Of the work I was involved in, I think the photo travel scene selection and the menu in the Sierra Time Rally were balanced well between the movies and controls, and I think it was successful in terms of looks as well.

Though the road I took in High school began with wanting to design mobile phones, game design also involves the act of "using features within a set TV screen", and in the age of smartphones now, phones are just a frame in which a screen is fitted. Here, the design of the screen becomes more important than the phone itself in many ways, so I think the job I do now is actually a course of natural progression.

The Character of Polyphony Digital

I still play a part in a band, and it's not that often, but I do participate in live shows now and then. I need to adjust my schedule for these activities, but the company is lenient and has understanding, and they've made it possible for me to continue both.

I'm the youngest in the team right now, but I don't feel an oppressive top down environment here. And I think the business trips I have been on to the Nürburgring and Amsterdam, are rare experiences that are unique to this company.

Regarding the Hiring of UI Designers

I'm currently designing something that appears on a TV screen, but I always think about wanting to see and be stimulated by works of designers in other fields, and get a different opinion.
Of course having experience in the game industry would be an advantage, but I would like to see experienced people from other completely different fields of design as well.

The Graphic Design Team to which the UI designer belongs will design everything including graphics, web, mobile, and product, regardless of genre-so you may discover new fields you are able to shine in.