WHO WORKS HERE
People
Staff Interview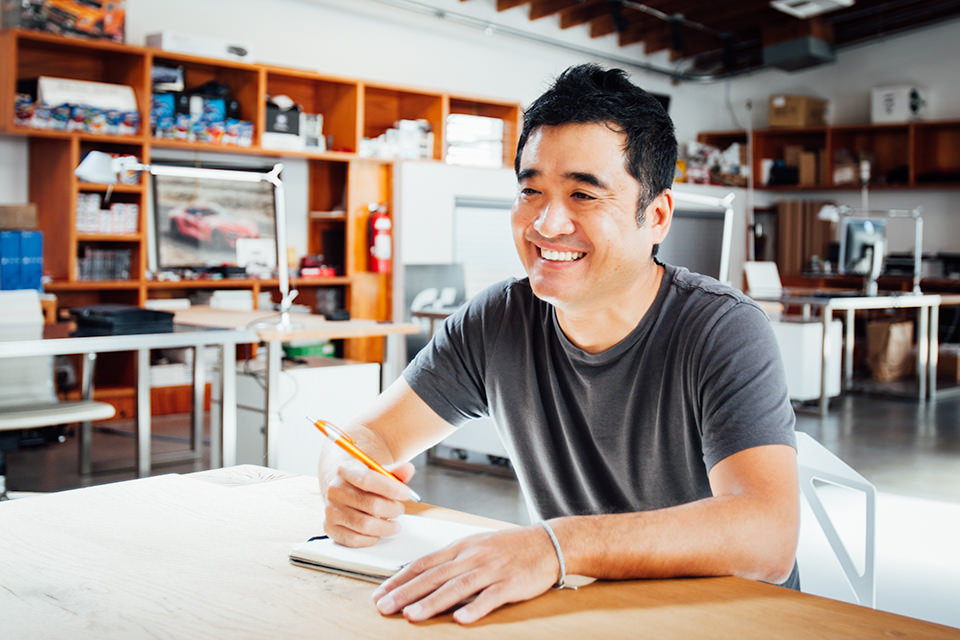 GT Explore Studio

STAFF INTERVIEW
Joined Polyphony Digital in 2006 after a career at Nike Headquarter's Innovation Studio. Currently at the GT Explore Studio in Los Angeles, responsible for the Gran Turismo's business development and brand enhancement. Past projects include the "Gran Turismo Trophy" at the Pebble Beach Concours d'Elegance and "Vision Gran Turismo."
Beginnings

Born and raised in the Kichijoji neighborhood of Tokyo thinking I would go to college in Japan like everyone else around. Cars have been my passion ever since I was a kid, and Mr. Shinichiro Sakurai, the Japanese engineer who named and developed the Skyline, became my hero when I was in junior high.

Through reading a magazine called "Car Styling," I learned in order to become a car designer, one should attend the Art Center College of Design (Art Center hereafter). However at the time, I didn't see a clear path to get into an overseas school which seems so far away in so many layers.

Due to my father's work, my family moved to New York and I started to attend high school there. Despite my intention to stay in the US, and the realization of attending Art Center became little closer, my parents advice was that I should think about attending the design school after finishing college in Japan. Upon returning to Tokyo, I entered the law department of a university.

When looking for a job after graduating college, I looked far and wide, from automobile manufacturers and related suppliers, trading companies, advertising agencies, etc., but I finally chose to work for a major department store, which is one of the oldest retail store in Japan from the Edo period.

From department store to Art Center

My interests were not only in car design, but I also had a strong interest in fashion. Since one of the traditional items in Japan is the kimono, I wanted to start my career where the kimono was the history of their business. As my wish went through I was assigned to the kimono department, and became familiar to a world where one kimono can cost several hundred thousand dollars.

Handling beautiful kimonos crafted by the best in the industry and learning the kind of hospitality that only a traditional department store can offer was a very good experience for me.

After leaving the department store, my focus was on creating a portfolio, and luckily I was accepted by Art Center. For the first two years car design was my major at their extension campus in Switzerland. For the last two years, I changed my major to environmental design and attended Art Center's main campus in California.

The reason for the change was that a car designer has skills so specific, they rarely work on things other than automobiles. In product and environmental design on the other hand, it's not unusual for a designer who worked on the interior of a hotel to design a laptop computer next. I felt this was more suited to me.

Time at Nike, Inc.

Because of Art Center's reputation, companies interview students for jobs nearing graduation. One of the companies happened to be Nike. I was not particularly a huge fan of Nike, but I accepted their offer. Once I started, I really appreciated the company's culture, which places great emphasis on innovation and design.

All the while, I still had a strong interest in cars. One day, I heard from my boss, who had been responsible for the Newton at Apple, that the Gran Turismo creator Kazunori Yamauchi was going to visit Nike. I volunteered to translate since I was fluent in Japanese. Initially, it started with a simple conversation of creating a limited-edition Nike sneaker with the "Gran Turismo" logo attached to it. I felt that there should be more possibilities and potential than just attaching the logo on a sneaker.

It was the second time that Kazunori visited Nike that I stopped him in the hallway from behind and proposed to include an original designed Nike concept car for Gran Turismo. I still remember how nervous I was in that moment but Kazunori immediately showed a great interest in my proposal and things moved forward quickly from there.

In the end, the project culminated with an exclusive T-shirt and footwear bundled in a limited-edition version of Gran Turismo 4 with the PlayStation®2 EyeToy™. When you scanned the printed graphic on the shirt with the PlayStation's camera, an imaginary concept car called the "Nike ONE" was unlocked in the game.

The Nike ONE project extremely stimulated my enthusiasm in cars . And I felt that in a company such as Polyphony, which held the same values for innovation and design as Nike had, with a free and open company culture that is not limited by experience or roles, the possibilities could be endless. That is when I decided to join Polyphony.

Pebble Beach Concours d'Elegance

After I joined Polyphony, I was struggling working by myself . There was no one to direct me in what I should start with.

The first project to come to life was when Kazunori became an honorary judge at the Pebble Beach Concours d'Elegance for the newly created award, the "Gran Turismo Trophy." Because this is an event that has history, tradition and stature, it was not easy. As I had no connections to the event, everything started from a call to their main office number.

Other projects I am working heavily in now are the "Vision Gran Turismo" concept cars. This is a collaborative effort with companies and brands in which a fantasy concept car is designed exclusively for Gran Turismo. This isn't limited to automobile manufacturers, it is something that approaches car design from a variety of fields and angles. This project has a special place in my heart as I feel this is an extension of the Nike ONE project which lead to me joining Polyphony.

Recruiting for the Explore Studio

This is a job that expands the world of Gran Turismo through a collaborative effort with people and parties in various fields, so it is important to build a good relationship, almost a friendship, with people both inside and outside of the company. It might be just my personal opinion, but I think what makes a collaborative project a success or not in the end often relies heavily on the relationship between the people involved.

And the work requires you to have a wide field of view. It's not enough to simply look at cars and games, ideas can come from anywhere. Just as an example, maybe if you poured olive oil on a "Karintou" (a sweet Japanese fried flour snack) you had this afternoon, maybe something new might come of it.

The work in the GT Explore studio is not the type where you are told by someone to do this or that. Unless you are not founded in your own motivations coming from your own ideas, it's hard to give it all you've got, and the result usually isn't that interesting. I'm waiting for friends with that "explore" spirit, with the toughness to trailblaze a new world on their own.